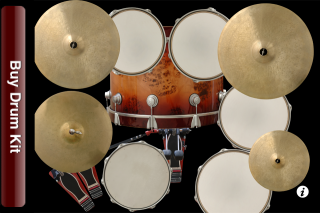 It is so nice to embrace the new technology because we can almost do everything that we like that are way far beyond our expectations. If you are a music enthusiasts, then I'm sure you have heard about this downloadable apps that emulates the real musical instrument right? I have to admit that i am one of those who embraces such modern advancement and I am satisfied with outcome. I recently download an app that emulates a drum kit and it is really impressive to see how it captures the real sound of typical drum. Despite of that capability of giving highly realistic sound, I still believe that playing the real instrument will be more satisfying and enjoying. Just look how my nephew enjoyed his very first performance in front of his schoolmates.
He actually impressed the crowds and he play another piece afterwards. I will not be surprised if his parents will consider to buy Verve drums for this talented kid. I am so proud of him and I'm sure he will go far! Oh I have heard that he's planning to build a band of his own. Isn't cool!
So how about you guys? Which do you prefer? Digital musical instrument or the real ones?