Ozine Fest 2012 Part 4 : Freebies, Contest, Bands and exclusive Souvenir Shops
We're almost done with our Ozine Fest entry. This time, I will share you the freebies and some exclusive cosplay booths in the said event. Several stage activities were held in the event including some anime auction. There are some funny contests too such as the CC Pizza Eating contest, Naruto Ramen Eating, Yakult Drinking and Mirmo Choco Contest. They also have booths that offers free foods from their major sponsors. There are also some Fortune telling kiosks and some cool souvenir shops like the one you see below.
On top of that, they also invited several Japanese-inspired bands t sing some of the notable anime songs. The bands include The Asian Chicken Fest, Do'ahou, Haponesang Dilat, Himitsu Heiki, Moonspeak, PPF All Star, Stigma of Grace and Trance. To be honest, i don't know any of them but I am somehow familiar with their song covers.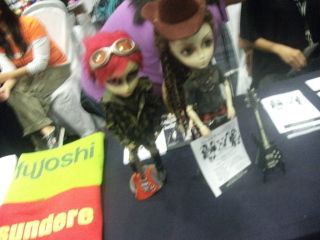 They also held some gaming tournament using console video games and also an online game called "League of Legends" which is also the event's sponsor. They also featured some indie artist, anime toy displays and Gundam Building. As a tradition, the event released the six special covers of the Otakuzine Magazine. The covers include Persona 4, Shakugan no Shana Season III, Naruto Shippuden, Detective Conan, Tiger and Bunny, and Rurounin Kenshin.
Generally, the event is fun and rewarding and I will definitely attend the said event next year. Who knows, I might cosplay too haha.
This is the last entry for my Ozine Fest posts but I am going to share a cosplay-related post in my next entry. It's just a short recap of my Brother Milzon's cosplay. Have fun!
Next Post: Milzon into Cosplay