Final interview might be one of the most crucial parts of any application process and thanks God, I'm already done with it though I'm not sure yet if i made it or not, my feet weren't shaking anymore and it was such a great relief. It was passed 6 pm when I found a jeepney terminal going to Libertad LRT Station. Believe it or not, it was my first time to ride on a train ALONE.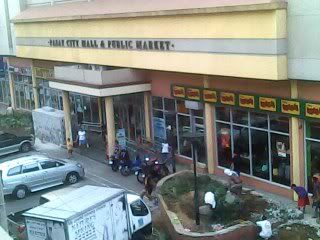 (Pasay City Hall & Public Market near the LRT Libertad Station)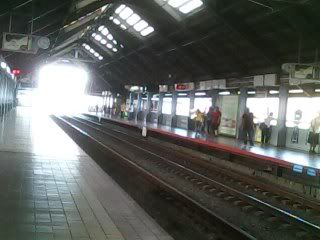 (Waiting for the train to arrive)
(LRT Train passing the other lane)
I never spent this long in Makati and i usually visit this place either with my cousin or my auntie. So from LRT Libertad Station going to LRT Baclaran Station. Underneath the Baclaran LRT Station was the crowded Baclaran public market and I had to walk a bit to find a Bus going to Baclaran Church. That's the only place I know where Cavite City buses are passing by. Buses were all crowded especially during this hour and I have to bear with it. I had to stand up, hold on to the Bus rails for 20 to 30 minutes, depending on how heavy the traffic is.
Finally, after reaching the Baclaran Church, I immediately found a Bus going to Cavite City. It's crowded and I had to stand up again but it doesn't matter anymore as long as I can reach home as early as I can. I thought I was fortunate enough to find a Bus going to Cavite City that time until a series of Unfortunate events occurred.
ACCIDENT 1: A little boy was almost hit by the bus driver. Luckily he managed to push the break right on time. We were all shocked and grateful at the same time knowing that the boy was safe. I was in the front that's why I witnessed everything. Whew! That was a nerve wracking one.
ACCIDENT 2 : The driver is driving too fast, surpassing the regular speed limit. I heard some passengers complaining but this driver keep on ignoring them which makes my heart beats faster. I was holding firmly on the bus rail when all the sudden, the bus stopped, pushed the break so hard, throwing us all at the back. Whoah! Good thing I managed to balanced myself and hold firmly on the rail. We're all surprised to see that a Bus is just inches away in front of from us. God is so good and he didn't permit that accident to happen or else we will find ourselves being rushed in the nearest hospital. The driver and the conductor keeps on apologizing to us.  They let us out first while the driver is settling down the issue with the police officers and the driver of the other bus.
ACCIDENT 3: If you think it's over, then think again because we experienced another issue while we were on our way to Cavitex (Cavite Express Way). The lights and the TV on the bus suddenly shut down and I sensed another trouble. The Bus stopped in the middle of the highway. The Driver went down to check the engine and you can see it on his face how upset he was. It seems that there was a trouble in the engine. Another officer came in, asking the driver about the trouble. Take note, we are on the middle of the highway so it might cause heavy traffic. So again, they let us out again, trying to fix the issue.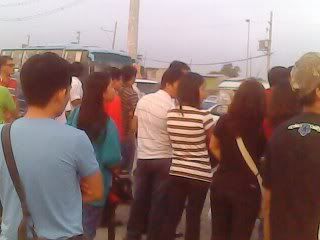 They let us there for a bit while and as you can see, the traffic is starting to build up.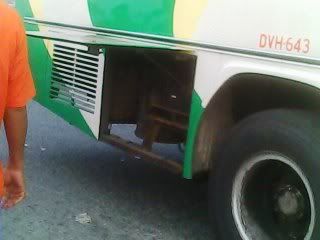 (The bus engine I supposed)

It is very upsetting that the driver is not allowing us to refund the money. They told us that they already contacted another bus and we just have to wait a little bit longer. It was passed 8 pm and we're still waiting for that stupid bus. We can ride on the other buses but most of them are either too crowded or full. Patience is a virtue,as what they say, but not this time. It pissed me off so bad and I have to force myself to find another bus. That was pretty stressing!! 0_o