X Factor USA will have their first ever Live show on October 25 and I'm really excited who among the Top 17 will survive and be hailed as the first ever X Factor USA Winner. But before that, let me just have a short recap of our Top 17. Again they are divided into four categories namely; Boys, Girls, Groups and Over 30's. Each Judge will be assigned to a certain group and has to mentor them. During the Judges' Houses Weeks, Each mentors or judges were guided by a guest celebrity to help them in choosing their top 4 Acts. Mariah Carey was contracted to aid Cowell in France, but was unable to attend due to Hurricane Irene grounding her flight to Paris. Enrique Iglesias helped Scherzinger to pick her finalists in Malibu, California and Pharrell Williams acted as a guest judge helping Abdul to pick her finalists in Santa Barbara, California. Rihanna helped L.A. Reid choose his finalists in The Hamptons, New York. After series of deliberation, the TOP 16 was hailed however, Simone Cowell included Melanie Amaro in his list, making it Top 17 Acts.
For Boys Category handled by L.A Reid are the following: Chris Rene, Philip Lomax, Marcus Canty, and Brian Bradley.
Chris Rene is my personal bet from this category. We've seen him first on the Audition 1 Episode where he shared his miserable experiences, his addiction and how he managed to overcome those nightmares for the sake of his child. Anyway, I am not placing my bet because of sympathy but i think he really has the X factor and certified crowd pleaser. Anyone who can compose their own songs and is able to deliver them well, is definitely a big advantage. Marcus Canty on the other hand, is one of my fab too. He was even compared to Usher and Bobby Brown.
For Girls Category handled by Simon Cowell : Simone Battle, Drew Rynewicz, Tiah Toliver, Rachel Crow and Melanie Amaro. Since Simon added Melanie Amaro on his group, he has to eliminate 2 of his acts on the first Live show.

Simon picked almost all my personal favorites especially during the Audition and Boot Camp episodes. Simone Battle is a very talented singer however, she's lacking with Originality. I'm really not a big fan of Rachel Crow at first, not until she sang her version of "IF I Were a Boy", she blew me away there and She really deserves a spot in Top 17. Drew Rynewicz is actually my personal favorite, she unique, she pretty and she did a nice version of JB's Baby. I think among all the girls, she's my bet! Melanie Amaro on the other hand is much more deserving than Tiah Toliver which came to me by surprise when Simon included her on his Top 4! Whoa! Seriously?
For Groups Category leaded by Paula Abdul : The Brewer Boys, InTENsity, Lakoda Rayne, and The Stereo Hogzz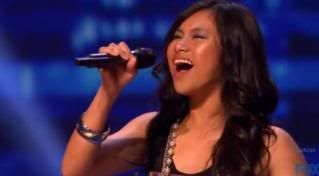 Of course, I'll go for InTENsity here knowing that our very own Ellona Santiago is included in this group. She was actually a solo performer and was eliminated during the boot camp but they decided to make another group to complete their Top 32 slots and Ellona was lucky enough to be included in the group in which they called "InTENsity".
For Over 30's group to be handled by Nicole Scherzinger: Leroy Bell, Stacy Francis, Dexter Haygood, and Josh Krajcick.
I love Stacey Francis and she's really one of my personal bets but I think Dexter Haygood is more deserving than her, not because I am sympathizing with Dexter's current condition but Stacey's voice is quite over the top for me while Dexter's voice is something new and refreshing to hear at the same time.
Oh well, these are just my personal bets, how about yours? Feel free to share it here! Thanks for dropping by and have a great day!