Hi Guys, Sorry for my very late post. I barely have time to blog recently because of my current work but as what they say, "it's better late than never" right? So lemme finish my Visita Iglesia post. This is the fourth part of my Visita Iglesia 2012. (Kindly read the Part 1, Part 2, and Part 3 in case you missed it) .
Anyway, going back to my Visita Iglesia journey, here's a short recap of the churches I visited.
1. Don Bosco Church Makati
2. Baclaran Church Parañaque
3. Santa Maria Magdalena Church – Kawit
After the Kawit Church, I went ahead to a small chapel located in Panamitan Kawit Cavite. You can see the church after crossing the Panamitan Bridge. It's a small and quite unknown chapel in Panamitan but that doesn't bother me at all and besides the main goal here is to pray and to recite the Stations of the cross.
So after that, I went to an Aglipayan Church in Noveleta Cavite. Just like the Panamitan Chapel, it is my first time here and that was a great experience exploring those churches that I've ever been.
Finally, going back to my hometown, Cavite City. Of course, I went to look for my mom and my Auntie. I went ahead another Aglipayan Church in Cavite City.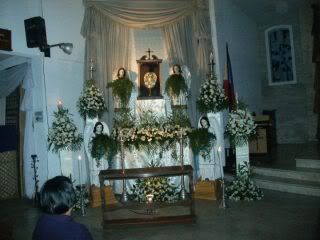 And then a few distance away, I proceed to the historical Saint Peter Parish Church which never failed to amazed me with its old yet gorgeous-looking building.
After Saint Peter, I decided to go to San Antonio. Even though it is quite far from Saint Peter, I decided that to walk (just imagine how much sacrifice Jesus had offered bearing the cross right?)
So I finally, made it to another church. The San Antonio Parish Church and I managed to see my Mom and my siblings so as my Tita and my cousin Ichan.
(Mom and Tita striking a pose)
I decided to go the separate way since they're done visiting the rest of the churches in Cavite City. I went to Porta Vaga Church in PN (Philippine Naval) .
And then I went to San Roque Parish Church which is just few blocks away from our house.
It was a very rewarding experience indeed and I hope I'm going to have the same experience next year!
To Summarized it all here are the churches I visited.
4. Panamitan Chapel in Kawit
5. Aglipayan Church in Noveleta
6. Aglipayan Church in Cavite City
7. Saint Peter Parish Church in Cavite City
8. San Antonio Parish Church
9. Porta Vaga Church
10. San Roque Parish Church