Last November 16, I was lucky enough to join the recently held Vocational Festival. It was my first time to attend such event and it was really overwhelming. The event was held at Rogationist College in Silang Cavite with the theme "Ating Pagsulahan Buhay na May Kabanalan"(Holiness, A life Shared by You and Me). The purpose of the event is to encouraged people to establish a life filled with nothing but holiness. Our team from San Roque Parish Church (Cavite City) went to the said venue exactly 9 am. We are thankful enough that we all managed to arrive on time and register our names. After the registration, each of us received an ID,
a candle, and a pencil which will be used later on in the event. The Opening Salvo and the Orientation (including a video message from Bishop Rey Evangelista ) welcomed us.  The performances were breathtaking and spectacular and it was such a great way to begin the event!
It is very interesting to note that whenever we are talking about vocation, we used to associate the word to people who are willing to become priests or nuns someday but according from what i have learned from the event, Vocation is simply the love for God and that is something that everyone can establish not just for themselves but also for others.

We also grabbed the opportunity to visit different booths from different religious institutions. Most of the participants were nuns missionaries and seminarians .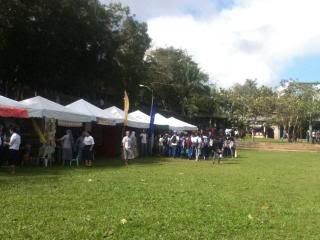 They were giving away free handbooks and leaflets to encourage anyone who is willing to enter their religious fields. You can also grab this opportunity to buy souvenir items and more. Vocational Festival 2013 is generally an overnight event. There will be a non-stop activities from 10 am in the morning (Nov 16) til 5 am the next day (Nov 17).  There are so many things to be shared but I am going to save them for my next entry including the Congregational Tour in the Shrines of Our Lady of LaSalette (also in Silang Cavite).