Vocational Festival 2013 Part 2 : The Congregation Tour
Here's the second part of my Vocational Festival 2013 post.
After the Orientation, we finally had our opportunity to have our lunch. It only took half and hour and we had to go back to the hall in preparation for the Congregation Tour. I actually don't know what to expect that time and I was surprised when they told us that the boys will be separated from girls during the tour. I also found out that we will be taken to a different congregation which made me feel more excited. Since I am the only guy in our team, I had to go to the congregation alone together with other participants from different schools, churches and parishes. My team were assigned to visit the "National Shrine of Our Lady of La Salette" in Biga Silang, Cavite.

We were warmly welcomed by the missionaries and seminarians of the Shrine and we were given an opportunity to watch a movie that showcases the events that occurred during the Apparition of Our Lady of Lasellete. La Salette is actually a name of a tiny village on the Alpine mountains in Grenoble , France. The apparition took place on the 19th day of September 1846 where the Blessed Mother appeared to two children , Melanie (14 years old) and Maximin (11).  They saw the Blessed Mother weeping , hense, Our Lady of La Selette is also called the Weeping Mother or the Weeping Madonna. According to the story, the Blessed Mother was crying because of the sins of her children. She also warned Melanie and Maximin about the upcoming Famine. As for the Shrine of Our Lady of La Sallette, you can check their history at inangpag-asa.com.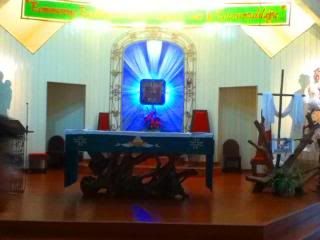 Here's the wonderful and stunning altar and sanctuary of The Shrine. Here's where we watched the movie clip while we were waiting for the next batch of participants to arrive (we were all divided into two batch). After their arrival, the seminarians tour us around their huge place. The entire land covers a total of 16 hectares accommodating all their facilities including their school, the dormitory for the seminarians (there were separate building for novitiates , aspirants, and priests). One of the most interesting parts of our tour is when we visited the shrines and the statues showcasing how the Apparition of Our Lady of La Salette started.

Here are more pictures taken from the tour.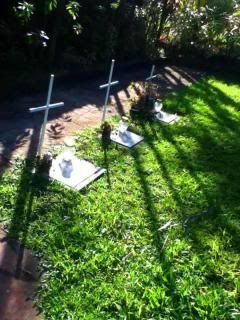 A small cemetery dedicated for the priests and seminarians from the La Sallette community.

(A Stunning view from their three story school)
A life size statue of our Blessed Mother in front of the La Salette Crucifix ( A unique image of cross with hammer and pincer on both side). I also found a statue of the Miraculous Medal along my way.
Ending the congregation tour. I am not yet done, I will be posting the last entry for my VocFest 2013 experience in my next entry. (Including my Church mates and the confession)