Last June, Alter Space (the first ever Filipino Environmental Awareness Game on Facebook) had a promo. It's pretty easy actually because all i have to do is to play the game, reach level 5, invite members and submit my email address for the raffle. The main prize actually is a brand new iPad but unfortunately i didn't win however, they had this raffle for their consolation prizes and I'm lucky to be a part of it. I got a call from their company stating that I won a water clock.
It took 2 months before i received the Item but I'm still grateful about it because winning something like this is more like a rare opportunity to me. Anyway, here,  I got the package via 2GO courier.
Tadah! Here's the Water Clock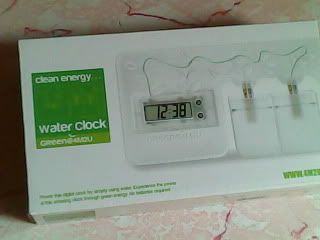 Here's how it looks like. See the empty LED screen?
You can power the digital clock by simply using water. It can even be powered by moist soil.
When all the metal plates are first inserted into the provided containers filled with water or moist soil, the LED screen will light up and will show the timer.

Tadah! They said that you can also add some salt for better result. This is what you called Green energy and that's exactly what the Alter Space is promoting about. It's very ideal for my working place too.. Cheers! Thanks Alter Space!!