Baygon Mats Anti-Dengue Mosquitoes
Apart from the landslides and flashfloods, another thing that we have to be very cautious about is the threat brought by Dengue. It is said that long wet season spawns rising dengue cases and we know for the fact how fatal Dengue fever could be. In fact, Mosquitoes are considered as one of the most harmful animals in the world killing millions of people worldwide. The increasing cases of Dengue in our province is truly alerting and we should do something to stop or even to lessen the risk brought by these Dengue-carrying mosquitoes.
In our case, we used to avoid keeping water stagnant because Mosquitoes can lay their eggs on it, allowing their numbers to grow.  Bases and other containers must be emptied or you have to change the water as frequent as possible.
You also have to keep your area clean as mosquitoes tend to stay in messy and mosit environment. Clean all the corners, your gutters, and even your cabinet. We used to apply Mosquito repellent lotion from time to time to keep the mosquitoes away. In addition to that, we used to have mosquito repellent coils too.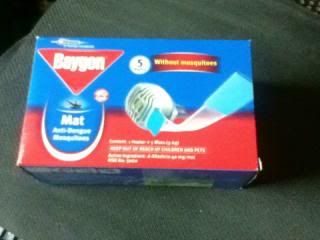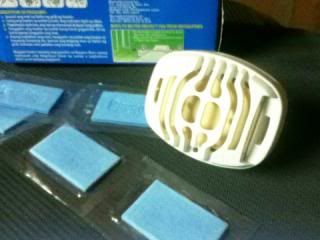 I recently purchased this new "Baygon Mat Anti Dengue Mosquitoes". I was really intrigued about it and I just want to know how it really works. According to the product description, you have to plug the heater and put the Baygon Mats inside. You will receive 5 Mats on your first purchase and it is said to repel mosquitoes effectively including those that try to enter the room. The five mats can last up to five nights (one mat per day). If you use the product for eight hours per day, it can provide up to thirty nights of continuous protection. If you ran out of mats, you can buy their refill packs.
According to the given description the heater consume 5 Watts of electricity and it covers the entire 20 square meter room. It is indeed a perfect alternative for your typical coils. It is convenient, clean and highly effective.