Aftr our "not so" satisfying lunch at Jollibee, I take Milzon to Quantum, an amusement center. Actually we went here before and he really had so much fun. This is our main target actually. And so I bought him tokens (a dozen is worth Php50 – not bad at all)
So where did he spent all his tokens? I think he tried all the machines there except those kiddie rides because according to him, he's not a kid anymore hehe.
He first tried the Slot machine (whoops! not suitable for his age actually but he insisted and I just can't say no haha)

And then he tried the Arcade Machine

And then the Toy Crane Machine

then another Arcade machine (car racing). However, he didn't enjoyed this much since he can hardly reach the pedals LOL

the Gun shooter machine…

Here's the video

We realized that we didn't get any tickets from any of those machine so we tried other machines like this one. He spent most of his time here and earned a lot of tickets as well.

the tickets..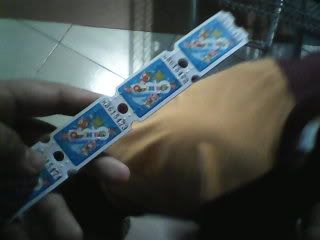 Finally, after more than an hour, It's redemption time!!!

He got a total of 84 tickets and in exchange , he received an eraser and a mini toy.
(next post : Visiting our Auntie)