I'm so happy for the new Art Theme that we have this month for Our Little Corners. The theme for the whole moth of September is "Clay Art". Yup, after the successful Cosplay Theme, we're now giving focus to a specific art medium which is Clay. Modeling Clays is very ideal activity especially for kids simply because aside from having fun, the ids can learn a lot of things here. They can express their creativity, widened their imagination and will mold their artistic ability. It is a nice way to spend quality time with your kids too.
We had some cool projects to show this month. Here's a sneak peek.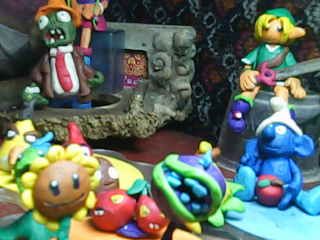 As you can see, we have some clay crafts from Plants Vs Zombies, Angry Birds, Smurfs, Zelda and more. You can check the closer look and some tutorial in our Art Site. Just visit us at http://foundation08.blogspot.com. Much better if you show our crafts with your kiddos too. See you there!@!