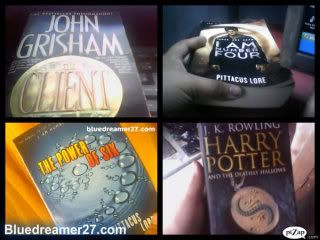 Do you love reading novels? How much time you used to spend to it and how long does it takes for you to finish an entire novel? How much passion do you offer when reading such fascinating stories? As a book lover myself, i find it more interesting to read a book than watching those adaptations in movies. Well, maybe because I felt more attached to it in a way that I try to imagine every single details in each and every pages of that book. Just like what I felt recently after watching "The Hunger Games". I find the film pretty interesting but I'm quite disappointed because they made some changes to the plot line. I know that this frustration is mainly because I am expecting too much from the film and it just so happened that it failed to reach my satisfaction.  I think film makers should be aiming for that "100 % satisfaction" from the viewers especially that their basing the entire story from a book. They have to expect that there will be plenty of critics who will review the film and they will definitely compare it to the book.
Most of the movies that we have today are based from famous novels written by world class writers. Some of them became highly successful in the big screen while others flopped. Remember "I am Number Four" movie last year starring Alex Pettyfer?  The film is a wide success but most critics gave negative reviews against the film. I didn't love it myself but because I am a big fan of Pittacus Lore, I really don't mind watching this film over and over again. I'm done with the first two books and I have no idea if they will be making another installment for the film. You can tell whether a film is successful or not if they made series of installments for it just like what they did to Harry Potter , Lord of the Rings and the Twilight series. Actually I came across a site about famous stuff and they have this very interesting list of films that were adapted from famous books. LOTR made it to the top spot followed by Nicholas Sparks' "A Walk To Remember". The Bella and Edward tandem of Twilight Series made it on the list too. Surprisingly, JK Rowling's Harry Potter is not included in the top movies based on books but I think it deserves to be mentioned. Hunger Games is not yet on the list but I'm sure it will soon after the release of the second installment of the film. Pittacus Lore's "I am Number Four" may not be on the list either but the main star Alex Pettyfer did and that is through the film "Beastly" which is currently on the third spot.
Other notable films that are based from famous books are the following; The Notebook by Nicholas Spark, Stephen King's Novels including Carrie, Misery and the Shinning, Silence of the Lambs, and Josh Grisham's The Client.