Hanging Out at Mall of Asia
SM Mall of Asia is dubbed as the second largest mall in the Phillippines, third in Asia and Fourth largest in the world. It is indeed a great tourist destination that our country has to offer. Melvin and I decided to hit the mall two weeks ago. I really had a busy month so I guess I deserve some time to relax and enjoy. Being in MOA is not really new to me. My employer's company was located inside the mall so I get used to see a huge crowd of shoppers everyday. The mall is indeed the largest establishment I've ever been and it is really impressive to see how great the place is. Anyway, we didn't explore much of the mall and we just decided to hit Mang Inasal for our lunch. I also grabbed that opportunity to buy a new book at National Books Store.
Mall of Asia is known for its large steel framed globe outside which welcomes the visitors. The globe was turned into Globamaze, a LED display by night (Please check the image above).  One of the mall's main attractions is the first ever IMAX theater in the country, along with a Director's Club Theater for intimate screenings (30 La-Z-Boy seats), a Premiere Cinema, and the CenterStage Cinema which can used for live musical concerts and theatrical performances. The San Miguel-Coca-Cola IMAX Theatre is one of the world's biggest IMAX screens in 3D including 2D screenings. We didn't hit the IMaX theater though.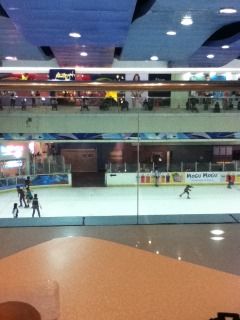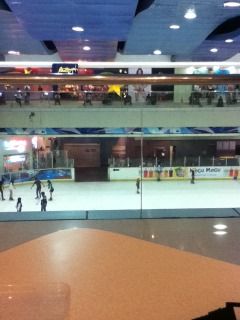 The mall features the Philippines's first Olympic-sized ice skating rink. At 61 by 30 meters, the rink is described as the biggest of its kind in Southeast Asia. It can accommodate both recreational and competitive figure skating, as well as ice hockey. Along with plain access and skate rentals, the rink's operators also offer training programs in both figure skating and ice hockey. The mall also provides office space. Dell International Services, a subsidiary of Dell, Inc.once occupied a 13,470.5-square meter area at the second floor of the north parking building of the mall. At present, Teleperformance has taken over that space and this is were I was working before.
The Mall of Asia Eye is a 55-metre (180 ft) tall Ferris wheel which opened to the public at the SM Mall of Asia complex on December 18, 2011. The tallest Ferris wheel in the Philippines, it has 36 air-conditioned gondolas, each able to carry up to six persons, giving a maximum capacity of 216 passengers.
The SMX Convention Center is the Philippines' largest privately run exhibition and convention center. The 46,647-square meter building will have three floors and basement parking with a total leasable area of 19,800 square meters featuring large exhibition areas and function rooms. The convention center can fit approximately 6,000 people.