Finally, here comes the first day! I am so excited yet a bit nervous. This is my goal for this year and I am so happy to accomplished it. One of my goals is to have a job before the year ends that's why I grabbed this opportunity. It's time for me to build a new life and look for a stable job. I have to overcome my loner side and be active again. Again, I have to adjust myself in terms of time and location. I had to travel 4 hours ahead of my schedule just to ensure myself to avoid being late. I'm just in the training period and it is still a crucial part because they can kick us out if ever we show them too much tardiness.
Well, i went there 2 hours ahead of my schedule so I freshen up myself first at the nearest store which is 7-Eleven. I didn't take my breakfast because I was really in a hurry so I satisfied myself with bread and a Slurfee. Yay!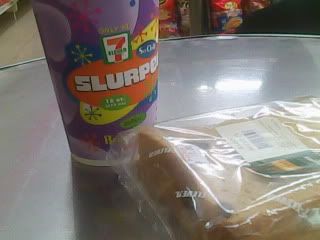 I saw some of my colleagues outside so i went out to approach them. Even though I am not the type of guy who used to approach someone initiatively, I really have to in order to gain new friends. I don't want them to think that I am a snobby guy.
Of course, we will be trained first before they sent us out to the production floor. We were trained under the first trainer handling Communication Skills and Costumer Service concerns. She taught us well and I learned a lot from her. She's, by far, the best trainer I've met.
The Best part of the Training: She introduced us Dr Earl Nightingale and his book 'The Strangest Secret". It actually reminds me of Brian Adams' "How To Succeed". According to the book, "we are want we want to become" which is so true. We all have goals and we do our best to reached it. We have to set goals in order to succeed. But of course,we have to pay the prize of the person we want to become.
Well, my first day went out pretty well. I got some friends. I hope I could manage to stay this long. I have overcome to my depression and I have to kill my loner side….^_^