Introduction to Cosplay Mania 2012
Good day guys. I know this is a very late update but allow me to share my wonderful experience from the recently held Cosplay Mania 2012. I'm a big cosplay fan and in fact I attended the Ozine Fest last year but Cosmania is way far bigger and is dubbed as the grandest Cosplay event in the Philippines. I didn't waste any of time and i grabbed the opportunity to attend the said event.
I was with Mirasol, Mecoy, and Ichan and this event was something special too because my beloved sister participated on the Cosplay Event too.
This year's Cosmania was held at SM Mall of Asia SMX Center last September 29. It was actually a two day event but we decided to go on the first day. We woke up late but thanks God, Ichan managed to buy our tickets. This is my second time to visit the said venue. There are three different kinds of Tickets. The first one is the Php 150 ticket or the Hall Entry Pass which gives you an access to their Dealers Hall. The Full Access Pass is worth Php 250 which gives you additional access to their main stage. They also have a limited edition Premium Pass which is worth Php500 which gives you a privilege to attend their Meet and Greet event together with their International Cosplayer Guests.
Here's the Floor plan to guide you up. We all bought the Full Access Tickets
This is bigger than Ozine Fest indeed.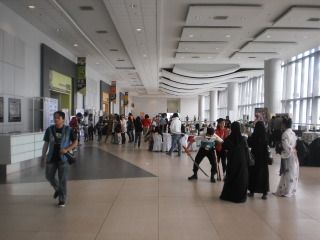 This is going to be four part post so I'm going to share the rest of the photos in my next entry