My Cosplay Mania 2017 Experience!
Despite of many conventions where cosplaying has become an integral part, Cosplay Mania solidify itself as the major cosplay convention in the country. The overwhelming crowd from the recently concluded Cosplay Mania 2017 is just enough proof how much the cosplay industry in the country has evolved. It seems like people are becoming more and more interested with cosplay. From its humble beginning in year 2008, the Cosplay Mania event drastically evolved over the years.

What is Cosplay Mania?
Cosplay Mania is an annual cosplay convention that is usually held every last quarter of the year (usually every first weekend of October). Unlike any other conventions, Cosplay Mania will only center about Cosplay and cosplay alone but you can still see booths and exhibits that are related to toys and other pop-culture items. Cosplay Mania is created and hosted by Cosplay.PH, an organization and a Philippine-based online community that is behind most cosplay events in the country.

Cosplay Mania 2017
This year's Cosplay Mania 2017 was held in the same venue, SMX Convention Center last September 30 and October 1st. This year's guest line up includes Anisong artists such as kradness (Vocaloid, Sound Vortex III), ELISA (Hayate the Combat Butler, ef – a tale of memories), Konomi Suzuki (No Game No Life, Re: Zero),and Shiena Nishizawa (Kantai Collection, The Asterisk War). They also invited Anime Director Sayo Yamamoto, the one behind Yuri!!! On Ice, Lupin III: The Woman Called Fujiko Mine. Voice actors like Koutaro Nishiyama (Jewelpet: Magical Change, Haikyuu!!) and Wataru Hatano (FAIRY TAIL, My Hero Academia) were also present in the event.
Of course the event will not be completed without the star cosplayers and the line up this year includes Angie from Malaysia, Kong and Eki from South Korea, Siutao from Hong Kong, Knitemaya from Australia and Hikarin from Canada. Jin (Behindinfinity) who recently attended AsiaPop Comicon was also seen from this year's convention (Check AsiaPop Comicon 2017 Walk of Fame)
I have been attending this convention for the past five years and this year's recently concluded convention was truly a special one for me. Well, simply because I was finally able to put a big check on my bucket list! I finally had my first cosplay! Cheers! Anyway, i would like to share you my Cosplay Mania 2017 experience!
One thing i noticed about this year is the overwhelming crowd. It seems like it was twice bigger than last year and I am not really sure if the organizers were expecting such big crowd but they somehow failed with crowd control on the first day. They managed to fix the issue the next day but still, the crowd is really huge that we had to spend more than 30 minutes just to reach the ticket booth.


After I got the ticket, the first thing I did is to go straight to the restroom for a costume change. I was really hesitant at first and I really don't know what to do. I went to a cubicle and started dressing up. Seriously, i put my wig on and I'm all dressed up but I didn't have enough courage to go out haha. I just said to myself that "everybody is wearing costume so there's nothing really to be ashamed of haha". Yeah! I'm wearing an Inu Yasha outfit which I prepared a month ahead. Let's start off with some toys shall we?


Nendoroids!


Iron Man : House of M Howard Armor Version


Frame Arms Girl Innocentia


Frame Arms Girl


Heart of Crown Card Game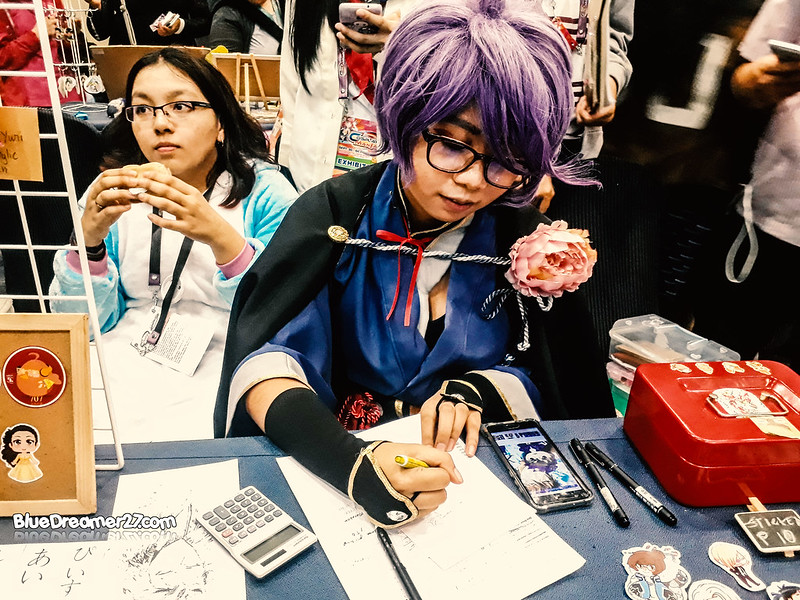 I also spotted various artists doing impromptu sketches too


Kenshin Himura of Samurai X … The Battousai!!!


This guy nailed his Master Roshi cosplay from Dragon Ball Z


The Butcher from Resident Evil is accompanied by the Clicker from The Last of Us

When Sakura of Naruto uses the Kage Bunshin (Shadow Clone Technique)


The Ghost Rider

This Inflatable T-Rex costume is truly a crowd pleaser


Of course, when it comes to inflatables… BayMax is the king! Everyone wants a hug from him! I don't know if this is the same cosplayer who just made a showdown with Ray Fisher in AsiaPop Comicon (Check: Asia Pop Comicon : Ray Fisher)


Cute D.Va cosplay from Overwatch


No Face from Spirited Away


Hellboy


Look I met Kikyo too

I learned a lot from my very first cosplay experience and I will put them all in a separate entry soon!
Feel free to watch the Video Summary below!