My Personalized Magic Mug
Last year, i decided to have these personalized mugs as one of my Blog Idol giveaways and I got so fascinated by this personalized mug so I bought one for myself. These mugs are highly customizable and you can submit your own design to them to be printed on your mug. I ordered the Blog Idol mugs online but I am fortunate enough to find a store nearby my place so i grabbed that opportunity to buy one for myself as well. I chose the magic mug and as what the term suggests, there's really some sort of magic when you use it. When you filled the mug with hot liquid, it will the color will suddenly change which really excites me a lot.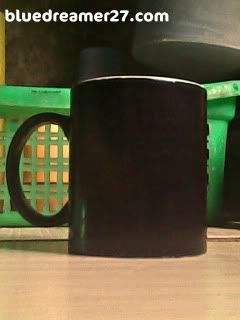 The mug will look initially like this. A plain black coated mug. And when you filled it with hot water, it will eventually change to a new design. I picked "One Piece" as my design and I customized it myself too. Thanks God, i somehow, aware of the basic editing tools of Photoshop. I came up with a collection of One Piece bounty posters. One piece is Japanese Manga/Anime which tells a story of an aspiring Captain named Monkey D Luffy who wants to be the King of all Pirates. Joining him is his 8 crew members including Zoro, Nami, Chopper, Usopp, Franky, Robin , Brook and Sanji. And to make my mug more interesting , i added my own bounty poster along with them haha.
The image shown on the right is the output when you filled the mug with hot water. You can see all the bounty posters of Straw Hats Pirate including mine (and i claimed myself as one of their crew now LOL). Don't you think it is very ideal as a birthday gift. You can print your special greeting to him/her and it can only be revealed when he or she uses it. Actually, magic mugs are quite in demand today and is widely used as wedding favors, company giveaways or as promotion item.  The magic mug usually cost around Php250.00 or $5-6. Not bad for a coffee addict lover like me right?