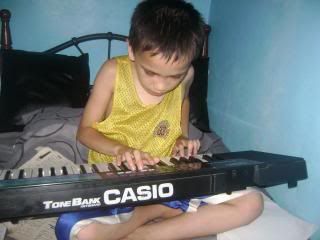 "Music is everywhere and all you have to do is to listen ~ August Rush"
Are you guys familiar with that film? August Rush is a 2007 film that tells a story of a young boy named Evan Taylor and he's journey to find his long lost parents. He is a musical prodigy and he was able to learn how to play a guitar all by himself without any proper training involved. Taylor was portrayed by Freddie Highmore (Charlie and The Chocolate Factory) who is actually one of my favorite child stars along with Macaulay Culkin (Home Alone) , AnnaSophia Robb (Bridge To Teribithia) and Zachary Gordon (Diary of the Wimpy Kid). Obviously, the film is all about music and its values. Actually, Milzon is quite inspired after watching this film and he immediately became more passionate about music.
Well, we're lucky enough because our cousin knows how to play several musical instruments including piano, guitars, drums and even harmonica. He is indeed a very talented guy and he never failed to impress us with his music skills. He also taught me the basics but unfortunately, it seems that I failed to absorb any of his lessons. My cousin is actually five years younger than me so it is really such a shame on my part LOL.
Just like what you can see from the photo above, Milzon is trying to play piano. My cousin taught him how to play a simple piano piece for kids and he was able to master it in just a short period of time
. While Milzon was quite busy with his piano, my cousin taught me to play the guitar. Yikes! I don't even know how to flock the guitar (what a shame indeed
). Anyway good thing he didn't let me use his Fender. Not sure with the model but it's almost similar to that 72 telecaster deluxe that I found online.
I'm not going to share you any of my performances because I'm sure you gonna hate me for real LOL.
So allow me to show a video showing my cousin's performance with the rest of his band members. They don't have the vocalist yet though.