A Visit To Kamay Ni Hesus : The Garden Of Eden
After that tiring yet rewarding climb in Via Dolorosa Grotto, we headed to another attraction of Kamay Ni Hesus, the Garden Of Eden. Unlike the Via Dolorosa Grotto, Garden of Eden is more like a recreational area and simple venue you can relax. It is more like a themed park for me with various life-sized images depicting different scenes from the bible (those in Old Testaments to be specific)

In between the Grotto and the Kamay Ni Hesus Chapel is a small shrine of La Pieta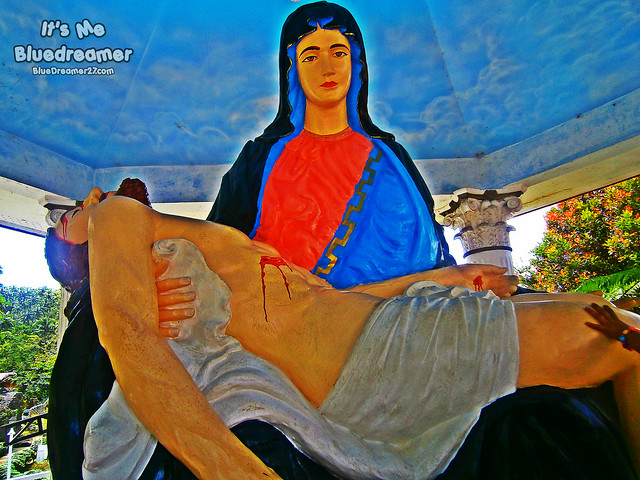 Unlike that stunning La Pieta image in their Holy Family Park, this one is also inspired from the original piece of Michelangelo Buonarroti but less accurate and with colors too.
The Garden of Eden features a life sized Noah's ark, a playground , a pond and more. There's an elephant slide

Life sized animals! It is also interesting to note that all animals here comes in pair because they are all part of the Noah's Ark theme!
This is most likely their interpretation of Mount Sinai where Moses receives the Tablets containing the Ten Commandments of God.
Moses holding the tablets
The Ten Commandments
The life-sized Ark is definitely one of the most interesting attraction to the place.
Take note that this is not just a replica but also a retreat center. It has a functional facilities inside and they are air conditioned too (who would have thought that Noah and his family had a luxurious ride huh? hehe)
This bridge is one of the latest addition to their park.
More paired animals outside the ark
They also have this so-called "Museo De Las Manos De jesus" (Museum of the The Hands of Jesus) but we didn't get a chance to see what's inside because it was currently locked that time.
A Garden of Eden will not be completed with the image of Adam and Eve.
A map guide for visitors
There is also a place called "Luklukan ni Maria" but we didn't get enough time to explore it (hopefully on my next visit)
Next Entry : What To Buy In Kamay Ni Hesus
The Holy Family Park │The KNH Healing Dome│The Via Dolorosa Grotto│Garden of Eden│What To Buy In Kamay Ni Hesus│Lucban Church