Adventure Resort : The Next Big Attraction In Bulacan
*UPDATED RATES BELOW
After exerting the inner kid in us on Inflatable Island in Subic (Check Infltable Island In Subic: The Biggest Floating Playground in Asia) , we went to Paris, Venice, Egypt and New York! Who could have thought that we can explore the famous landmarks from different parts of the world within a day (within just few minutes to be exact) and we do not even need a plane ride! Our tour organizers (O'la Malaya Adventures) took us to another interesting resort and this time in Norzagaray Bulacan. We spent enough time swimming and sun bathing on Subic so we're just up for some sightseeing! Adventure Resort is located in Sitio Gulod, Barrio Tigbe Norzagaray Bulacan and is probably the next Big attraction in Bulacan and nearby provinces! It's just few hours drive from Manila too!

We have seen a lot of creative theme resorts in areas of Cavite and Batangas and each of them has their own gimmicks. There's the life size superhero statues, wave pools, lazy river and more but what we can find in Adventure Resort in Norzagaray Bulacan is something unique and impressive. Adventure Resort will take you to different parts of the world through their very unique set of attractions which are merely inspired from different famous landmarks from different parts of the world including this smaller scale replica of the Eiffel Tower in Paris!


By the time we get there, the place was not fully established yet and some parts are still under construction but you can evidently see the place's huge potential of becoming the next big attraction in Bulacan and nearby provinces and you can have such unique experience for just Php50!

The place may not look so huge from the outside but you will be surprised how many facilities and recreation areas they got inside. Aside from the main attraction, the place also offer swimming pools, lagoon, rest house, function rooms, wall rappelling area, zip lines and more!

The Pavilion and the Rest house. Please be mindful that the Php50 fee is only applicable for the Eiffel Tower attraction and the entrance fee to their pool, cottages, rooms and other activities are not yet applied.

They got one huge swimming pool with two huge slides on both sides. They said the resort got three pools but I wasn't able to spot the other two. One thing I noticed about the place is that they are not really that strict. I mean, i only paid 50 for the Eiffel Tower attraction area but I was able to pass through their pool area without being questioned or anything. You see, I can just take off my clothes and jump into that pool without even paying for their entrance fee. Or maybe it's just me.. maybe I was being monitored that time haha

The entrance fee to their pool is Php125 for adults and Php100 for kids (3ft and below). These fees are applicable for the daytime stay from 8am to 5pm. Overnight rates is Php150 for Adults and Php120 for toddlers. They do not seem to have corkage fee too. Tables and cottages can be rented from 250 to 1000 for Daytime and it could go higher for overnight stay. Rooms with fan only will range from Php750 to Php2000 depending on the capacity while those that are Airconditioned will range from Php900 to Php2500. You can also rent the Resthouse (good for 84 pax) for Php15,000 per night!

For events and bigger gatherings, they also have spacious pavilion that offers a very serene and relaxing atmosphere

Exploring the World with Adventure Resort

The one that put Adventure Resort on the map of the best resorts in Bulacan is their very unique attraction. The replicas of different landmarks from different parts of the world. Like I said, some are still under construction but you can still appreciate their beauty!

Some notable Greek-inspired statues will welcome us as soon as we enter the area.

The first attraction that you can find as soon as you enter the area is the replica of the Statue of Liberty

This one is supposed to be the replica of the Venice Grand Canal in Italy but still under construction by the time we get there!

They're making this man-made canal and they fight be putting functional gondolas soon

Not too far from the bridge, you'll find an Egyptian-inspired setting. Here's a replica of the Louvre Pyramid of Paris surrounded by Egyptian gods such as Anubis, Horus, Hathor and Thoth

Egyptian God Horus

Inside the steel Pyramid
Thoth holding a tablet with hieroglyphics on it

Adjacent to the pyramid is another notable landmark, this time, the golden Sphynx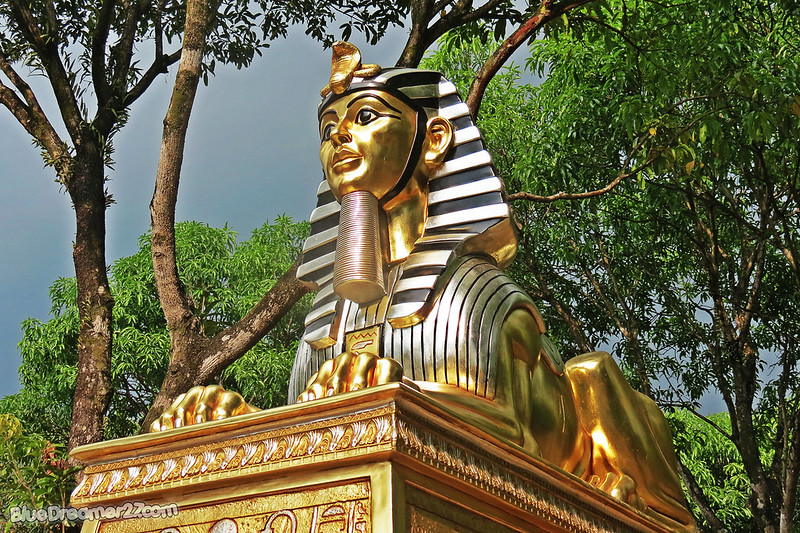 I really appreciate the intricate details that are applied in each structure

Finally, the biggest attraction of them all, the Eiffel Tower replica which is 125ft tall!

Before reaching the tower, you will also notice this interesting set of statues depicting the four goddesses of seasons, Winter , Spring, Summer and Autumn


Winter


Spring


Summer


Autumn


This attraction is also an ideal wedding venue. The tower also shines at night!


Visitors can also climb the top most platform of the tower!


They also have this area for recreational activities. Perfect for team building!

Things You Should Know Before Visiting Adventures Resort In Norzagaray , Bulacan
►The entrance fee for the Eiffel Tower attraction is Php50/ head
►The entrance fee to swimming pool and cottage rates are indicated in the image below


►There were canteens inside
►Other activities includes zip lines, kangaroo ride and wall rappelling
How to Get to Adventure Resort In Norzagaray, Bulacan
►If you are coming from Manila via public transportation, there is a bus station in Doroteo Jose LRT that are bound to Sapang Palay and just ask the driver to drop you off to Adventure Resort!
Where To Stay in Bulacan
►If you are going to visit Adventure Resort and looking for a place to stay nearby, you should not look any further because the resort offers affordable rooms already. You can actually avail their promos via TravelbookPH where you can avail their rates in 15% off! Book your rooms now!

Just spotted this picture worthy grassfield outside the resort haha
Follow me in my social media accounts for more updates
Facebook : It's Me Bluedreamer!
Instagram :  @bluedreamer1227
Twitter : @bluedreamer_27
*UPDATE : HERE'S THE UPDATED RATES FOR ADVENTURE RESORT: