Cosmania 2012 : Hallway Part 2
We're down with the second part of our Hallway Tour. Actually the hallway is good and satisfying enough for the attendees because you will be able to see almost all the cosplayers there. In addition to that, they are all approachable so once you asked them , they will pose immediately in front of your camera.

Okay, I am not really that expert in terms of guessing which anime characters they are portraying but despite of that, you will still be amazed on how well crafted their costumes are. The one on the lower left is She Hulk while the other one on the right is Law from Tekken game series. He was actually one of the best cosplay I've seen there. He was able to capture the real image of Law. Cool!
Before hitting the Dealer's Hall, we decided to peek with this small Photo exhibit somewhere in the hallway. As far as I can remember, they have a special contest for this but I don't have any idea who have won the competition.

As expected, we were welcomed by a long queue. We had to wait for like 15 minutes in the queue. Yikes!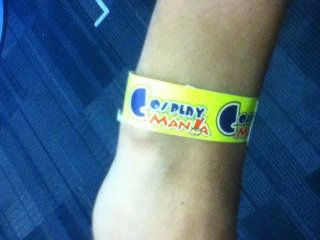 To differentiate the Dealer's Hall pass to Full Access Pass, those who got the Php150 worth ticket will receive a stamp while the Php250 ticket holders will get this bracelet pass. On top of that, everyone will receive their freebies (stickers, game coupons and promo posters).
Well that's all for now, we're about to enter the Dealer's Hall and I'm going to save that for another entry! Have a great day guys and happy blogging to all.