10 Designated Pilgrim Churches in Manila to Visit In Celebration of the 500 Years of Christianity in the Philippines
The Archdiocese of Manila recently declared 10 Pilgrim churches in Metro Manila to be the "centers of prayer, forgiveness, and charitable works" in celebration of the 500 years of Christianity in the country. In a press release sent by the Archdiocese of Manila, the Catholic Bishops' Conference of the Philippines (CBCP) "has requested the Apostolic Penitentiary for the granting of indulgences in these churches."

Today, February 6, the Archdiocese of Manila formally launched the celebration of the 500 Years of the Arrival of Christianity in the Philippines. According to Bishop Pabillo, the focus of the celebration this year is "Missio Ad Gentes" or Mission to the Nation. To remind us all with this important mission, Bishop Pabillo is encouraging us to wear the 500 Years Mission Cross which will be available in the parishes under the Archdiocese of Manila (some diocese also expressed their interest to join this campaign). The intention is to bring back the old Catholic tradition to wear cross as a symbol of our strong faith to Jesus. The cross will also serve as our badge of mission. Engraved in front of the Mission Cross is the name of Jesus written in Roman Alphabet and our very own Baybayin symbolizing the unity of our culture and faith. Behind the cross is the name of Mary indicating Filipinos' undying devotion to her.
Bishop Pabillo is also encouraging us to use the official mission song "We Give Our Yes" as a recessional song for all the masses. We Give Our Yes is a song composed by  Fr Carlo Magno Marcelo and was performed by Jamie Rivera. The song is a reminder for us that we indeed give our YES to mission.
In the Archdiocese of Manila, Most Rev. Broderick S. Pabillo, Apostolic Administrator of Manila will open the jubilee door of the Manila Cathedral on April 4, 2021, Easter Sunday. He will open the jubilee doors of the other pilgrim churches during Easter Week. The Jubilee Year will open on April 4, 2021, and will close on April 18, 2022, with the Second National Mission Congress in Cebu.
Here are the ten designated Pilgrim churches by the Archdiocese of Manila in celebration of the 500 Years of Christianity in the Philippines.
1. Minor Basilica of the Immaculate Conception / Manila Cathedral (Intramuros Manila)
(Read: Minor Basilica and Metropolitan Cathedral of Immaculate Conception / The Manila Cathedral)
2. Minor Basilica of the Black Nazarene/ Parish of Saint John the Baptist (Quiapo, Manila)
(Read: Manila Pilgrimage Tour)
3. Archdiocesan Shrine of Nuestra Señora De Guia (Ermita, Manila)
(Read: Archdiocesan Shrine of Our Lady of Guidance / The Ermita Church)
4. Archdiocesan Shrine of Santo Niño de Tondo (Tondo, Manila)
(Read: The Archdiocesan Shrine of Santo Niño De Tondo / Tondo Church)
5. Saints Peter and Paul Parish (Poblacion, Makati)
(Source: Brideworthy)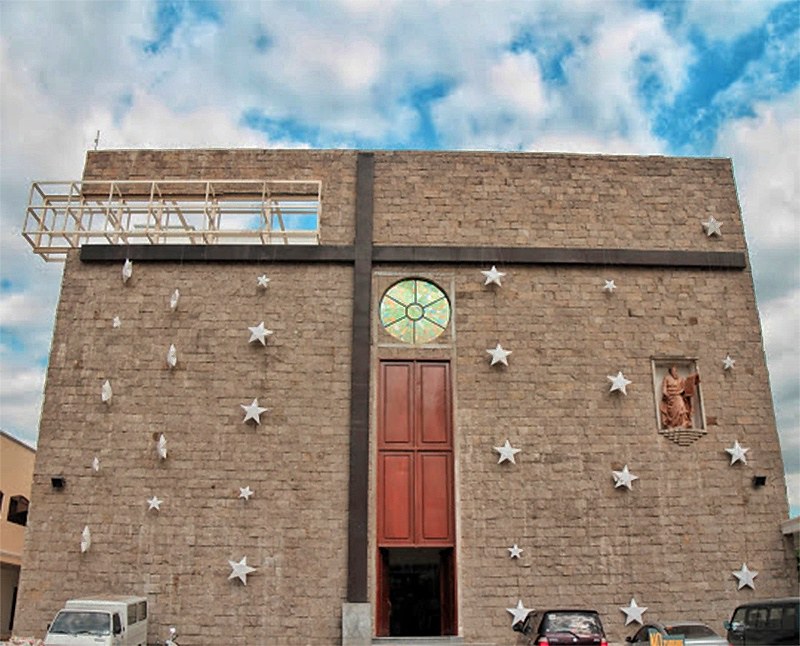 6. San Pablo Apostol Parish (Tondo, Manila)
(Source: Popoy Galore)
7. Santa Clara de Montefalco Parish (Pasay, Manila)
(Source: Wikimedia)

8. National Shrine of Our Lady of Guadalupe (Orense, Makati)
(Source: rcam.org)

9. San Felipe Neri Parish (Mandaluyong)
Source: Inspirock

10. Saint John The Baptist Parish (Pinaglabahan, San Juan Manila)
Source: Brideworthy
Related Articles:
►The Pilgrim's Passport And The Designated Jubilee Churches In Manila
►Special Pilgrim Churches In the Diocese Of Imus For the Centenary of The Apparitions Of Our Lady of Fatima