We had a chance to visit Binondo last Tuesday (Chinese New Year) but unlike my previous Binondo trips, this one is not a Food trip but more of a Photowalk. I usually visit Binondo either a week or a day before the Chinese New Year to avoid the crowd. Restaurants, especially the popular ones, are pretty much full and you have to deal with long queues. I try my best to avoid such situation because I'm afraid I might end up spending my time waiting rather than enjoying the trip.
Anyway, what happened last Tuesday is exactly what I had on my mind. We were greeted by an overwhelming crowd of people. It might be a tiring experience but I am glad I was able to experience how festive the Chinatown was during the Chinese New Year. There were Dragon and Lion dancers everywhere , from one street to another. How I wish we visited those popular food stops in Binondo such as Dong Bei, Ying Ying, Tasty Dumplings and Sincerity Cafe but we all came up with a different plan.


We visited numerous churches within and near Binondo, we visited Seng Guan Temple and the Lucky Chinatown Mall. Thank God I had my camera with me so I ended up in an interesting Photowalk experience. Allow me to share some of the photos I took during our Chinese New Year trip in Binondo.
Binondo Church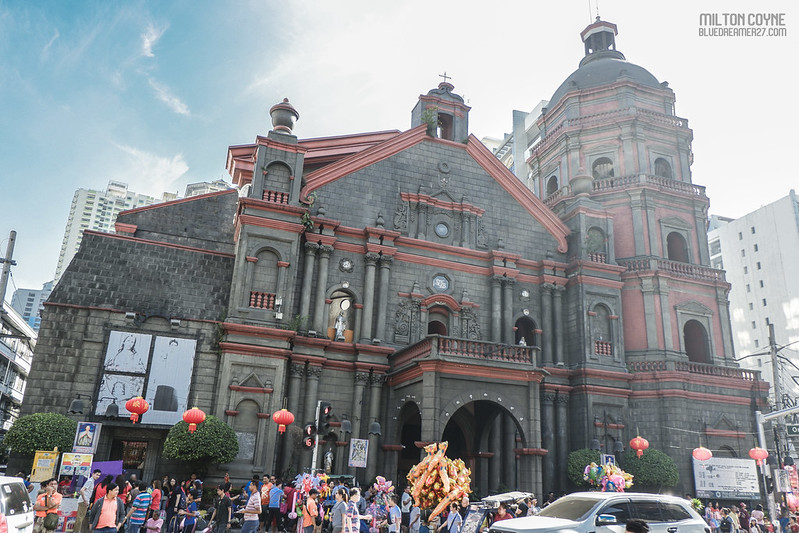 Our first stop is the Our Lady of the Most Holy Rosary Parish and the Minor Basilica of San Lorenzo Ruiz or more popularly known as the Binondo Church. The church was founded by Dominican priests in 1596 to serve their Chinese converts to Christianity. Interestingly, since the church is near in Chinese community, the masses here are held in Filipino, Mandarin, Hokkien, and English. (Check more : A Trip To Binondo : The Binondo Church)

The nave and the stunning altar of the Binondo Church. You will be welcomed with intricate details and stunning paintings on the ceilings which depict scenes from the four mysteries of the Holy Rosary


The remarkable altar of Binondo Church. Based on how it looks, you can clearly tell that the altar is loosely based from the St. Peter's Basilica in the Vatican


The image of Our Lady of the Most Holy Rosary enshrined in the main altar


The original image of San Lorenzo Ruiz
For more of my pictures of Binondo Church, Feel free to follow me on my Instagram : @bluedreamer1227
Santo Niño De Tondo Parish

It turns out our supposedly Food trip in Binondo became a Pilgrimage tour. Exactly on that day, the historical Santo Niño de Tondo Parish was elevated as an Archdiocesan Shrine of Santo Niño de Tondo. We decided to visit the church. Actually prior to that, we also visited the Soledad de Manila Parish in Camba St but the church was closed so we headed to Santo Niño de Tondo Parish instead.

I'm going to post a separate entry about this church soon but look how stunning the interior is!
Lucky Chinatown Mall
One of the go-to places when you visit Binondo especially during the Chinese New Year is the Lucky Chinatown Mall. Between the Lucky Chinatown buildings is the so-called Chinatown Walk. Every Chinese New Year, the place is adorned with colorful CNY decorations.

Look at the great crowd! What makes the place even more interesting are the annual Chinese New Year rituals that you can try (its free!)


One of the fun rituals this year is this huge Piggy Bank which is aptly made in celebration of the Year of the pig. Organizers are distributing piggy coin plates. Simply write down your petition or wishes and throw the mock-coin towards the huge piggy bank display.


At the center of the Chinatown walk is an image of their deity where you can pray and lit some incense.

Seng Guan Temple
Just few walks from the Lucky Chinatown, we headed to Narra St to visit the Seng Guan Temple. Seng Guan Temple is one of the well known Chinese temples in Manila and is considered as a major cultural center for the Chinese Filipino community.The temple was named after Venerable Seng Guan (1889-1962), a monk from Fu Kien (Fujian), China, who was active in teaching and organizing work in Southern China, Manila, and Rizal.

The Seng Guan Temple is considered as one of the most beautiful Buddhist temples in the Philippines.  It has a beautiful facade with a huge Stupa on top which can easily be noticed from a far.

This is a sacred place so I decided not to take much photos.

Read more : A Trip to Binondo : Seng Guan Temple
Ongpin Street
Ongpin is probably the most popular street in Binondo and this is where most of the famous restaurants and most of the major CNY events take place.


The new Eng Bee Tin shop. Eng Bee Tin is famous for their Hopia and other Chinese delicacies.


The Sto Cristo De Longos Shrine. (Check : A Trip to Binondo: Sto Cristo De Longos Shrine)


Lucky Charms and figurines can be found everywhere in Ongpin Street

Dragon and Lion Dances
A Chinese New Year celebration will not be completed without the traditional Lion and Dragon Dance performances. Lion and Dance is a form of traditional dance in Chinese culture and other Asian countries in which performers mimic a lion's movements in a lion costume. The lion dance is usually performed during the Chinese New Year and other Chinese traditional, cultural and religious festivals. Same thing goes with the Dragon Dance. Learn more : Chinese Dragon and Lion Dances

Kids are also improvising their own Lion and dragon costumes too!

Aside from lion and dragon dancers, we also encounter various performers. From festive tribe dancers to fire breathers!

Sta Cruz Church
We concluded our Binondo Trip in Sta Cruz church.


The unique altar of the church and the exposed blessed Sacrament. Read more : A Trip to Binondo: Santa Cruz Church
It was overall a satisfying trip for us. It was quite exhausting after all the long walks from one stop to another but it was undeniably fun and great experience. I might conduct another Binondo trip soon, a food-centric trip maybe.
For more of my pictures of my Binondo trip, feel free to follow me on my Instagram : @bluedreamer1227