Cavite City Zoo Trip Part 2
This post is the continuation of my previous entry about our Cavite City Zoo trip. Okay so I think we ended up with birds right? Yes, there are indeed plenty of birds out there and I can hardly tell their species actually except for this picture below. Ostrich is truly one of a kind.
They got a bunch of Ostriches here and they also showed us their huge incubators containing their giant eggs. I wonder how does an Ostrich Egg tastes like. Oh and how many calories they have haha.
Okay, here's a closer look. Warning! These birds are quite aggressive huh. I don't know but maybe they are being mistreated by some visitors here.
Few cages away, you'll meet this two Wild Boars. I don't find them quite exciting. They're almost like pigs except for being black and furry.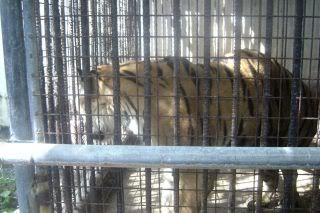 Okay, probably the most exciting animal here in Cavite Zoo is no other than "Felipe". Yup, they named him Felipe which was based from the well known composer of our National Item which happened to be a Caviteño.
Closer look to Felipe. He didn't growl that much. Cavite City Zoo has a great potential if an only our City official will enhance their facilities to make it more inviting. Hope you had fun guys!
I'm going to have another series of Travel post soon. We're heading to Kamay Ni Hesus (Hands of Jesus) in Lucban Quezon.