A Pilgrimage to Tarlac : San Sebastian Cathedral / Tarlac Cathedral
After visiting the Monasterio de Tarlac (Check : Monasterio De Tarlac), we went to our fourth destination in Tarlac City. Sitting at the heart of Tarlac's Capital is one of the oldest church in the province – the San Sebastian Cathedral or more colloquially known as the Tarlac Cathedral. The parish has an interesting piece of history, the church has been there even before Tarlac became an independent province.

Tarlac City was once part of Pampanga and the town is said to have been established in 1686 by the priests who were assigned in Magalang. The church was founded on the same year and was administered by the Augustinians from Pampanga until 1725. Two years after (1727), the church got separated from its distant matrix and was declared as an independent parish.
The first parochial building was established in 1740 by Father Agustion Barriocanal. A wood and stone church was later build by Father Baltazar Gamarra in 1872 and was completed in 1890 by Father Fermin Sardon. The church, however was utterly destroyed during the second world war and the current building was rebuilt and completed in 1945.

Tarlac Cathedral is dedicated to San Sebastian. The post war neo-gothic church features a very neat facade with the image of their patron saint on the center niche of the entrance porch. The facade has an interesting shade of beige, pink and white adorned with ornate stained glass windows.


The cathedral offers an equally stunning interior. It features a grandiose main altar. The highly ornate altar is placed under a huge canopy with eight huge columns surrounding. Correct me if I'm wrong but I think the structure is ecclesiastically known as ciborium, similar to what you can find in Baclaran Church (Check : Baclaran Church).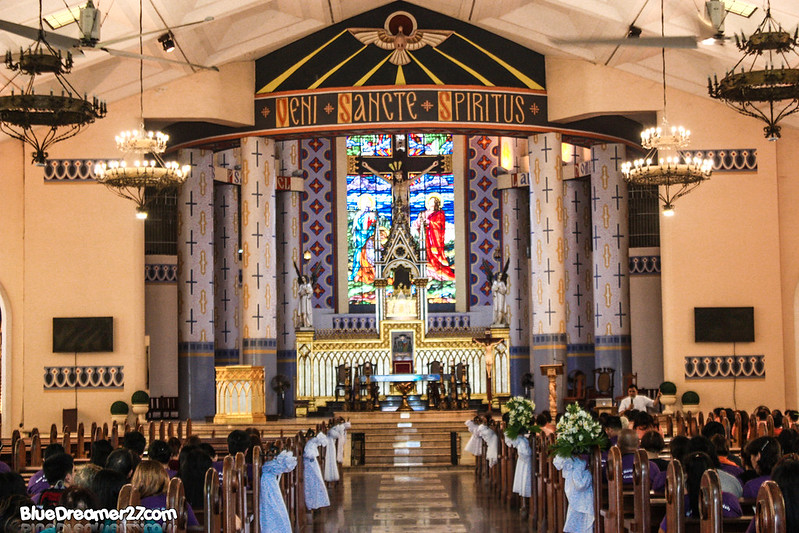 There's also words written on top of the canopy that says "Veni Sancte Spiritus", a Latin term for "Come, Holy Spirit" which explains the dove icon on top. Behind the image of the crucified Christ is a huge stained glass window that features Mary and John at the foot of the cross. There's also two side altars featuring the image of Our Lady of Mount Carmel (left) and the image of San Sebastian (right). Older pictures of the church before the war shows the image of San Sebastian on the center niche of the main altar.
Mass Schedule for San Sebastian Cathedral / Tarlac Cathedral (Source)
Monday/Tuesday/Thurs/Friday/Sat – 6AM / 7AM / 5:30PM
Wednesday/ 1st Friday of the month – 6AM/7AM / 12:15NN / 5:30 PM
Sundays – 5AM / 6AM/ 7AM / 8AM/ PAM – 4PM / 5PM/ 6PM/ 7PM
Baptismal – Everyday 11:30AM