Medical Exam… Oh My! Oh My!
A Day after the Interview, I received a call from my agency stating that I was able to passed my Final Interview and they are asking me to report that day. I got the call exactly 8 am and  I have to be there at 3 pm. I went there 3 hours ahead of time. It was a short meeting between the HR management and the newly hired applicants. They give us the list of requirements and I was able to meet the rest of the applicants as well.
They gave as a week or two to complete the requirements but encouraged us to process them as early as possible because they might deploy us to that company immediately. Surprisingly, a day after that, we received another call from them, asking us to attend the contract signing. Unfortunately,  still don't have some of my documents.
(The Documents presented during the contract signing ..sorry i had to pixelate the image as this is a confidential info)
And so I went to the agency again, they gave us the contract to sign and they gave us a day to complete the necessary requirements which includes my BIR, PhilHealth, Pag-Ibig, SSS, Police or NBI Clearance and also the Medical result. Luckily, the medical exam is for free and they endorsed us to their company-owned medical clinic and that's also the first thing I had to complete. I was with my co-applicants when we took the exam. We went there before 8 am. We had to take series of exams there including the laboratory, dental, x-ray, and Oh my! Rectal examinations o_0!!!! Oh God! i can bear with the syringes but I the rectal is a big NO! Ahahaha…
It was actually the last process we have to undertake. There was this Doctor, asking me about my medical history and blah blahblah and then she told me to go to a little room near her table. Take NOTE! The DOCTOR IS A WOMAN  and showing off my butt to her is very embarrassing hahaha. Anyway I know she's taking everything professionally so i did what she said.
"Okay, Open your legs a bit wider" She said. Yikes this is very embarrassing. I saw her wearing the white globes and I just closed my eyes because I don't know how it's gonna hurt me. Without any warning, she inserted her damn finger on my butt.. o_0 0_o o_0 Ouuuuucchhh!!!! She's merciless… huhuhu….
I went out with shock and that unwanted sticky feeling on my butt eeeeeewwww!!! She put a sticky gel on me and it felt like something icky inside. Everybody felt the same way. Damn!!!
I had to process my other documents after that horrible medical exam. The doctor and the dentist gave us receipts. I had to visit a private dentist for tooth extraction, a dermatologist for warts removal and a private doctor for Hepa Screening!!! What the heck?? We will be answering calls here and we're not image models you know? Customers can't see us over the phone so what's the sense?
Anyway, my colleagues and I went directly to Philhealth office. We're not familiar with the place, so we have to ask every security guards out there just to reach the exact location.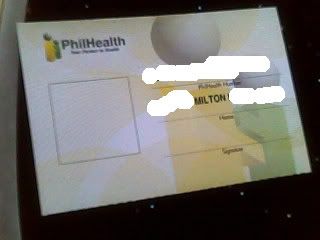 (my Philhealth ID)
After the Philhealth, we went on separate ways to  process the rest of our papers. I went to Pasig to update my Income Tax. It's 3pm and I'm in hurry because the office hour is just up to 5 pm. I went to the Revenue office without knowing that they already transferred to a new location. Luckily, i found another guy who was not aware that the company transferred to a new location. I joined him since he's familiar with the new location. We were able to get there exactly 4 pm and luckily, they are still accepting late comers.
I managed to process all my documents on time and I am so excited for my First day!!! I will buzz about it in my next entry