Postponed Camping Event in Tagaytay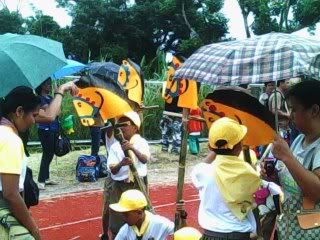 Does it also reminds you of your childhood days? The photo (left) was taken last month when my brother Milzon had his first Boy Scout Summer trip. This horse racing event for kids are just one of their fun activities held in a Sport Complex in Tagaytay. I remember, my cousin and I used to play Horse sticks too but i never had a chance to attend an event like this. I am not an active Boy Scout during my elementary years. Same thing with High school though we are required to attend our CAT training because it will reflect to our report card. I became a class marcher when I was in college which is, by far, my highest achievement in this kind of field hehe. Anyway, mom and Milzon had so much fun but unfortunately, the weather was not so cooperating that time and they had to postponed the rest of their activities.

As you can see (right photo), it started to drizzle so they cannot pursue the event up to the end. They failed to have camp fire too and also the real horse back riding for parents and teachers. There is a horse back riding field near the venue and is not part of the event but the parents can try it while kids are too busy with their camping. After all, parents are not allowed to the camping field and they have separate venue as well. I'm not really sure if they have to bring their own horse equipment or they just have to rent it there. Milzon was not so satisfied with the trip that's why i promised him that we will hit Tagaytay again if he gets high grades and if the time will allow us. It must be a fun and exciting experience indeed.