The Colorful Festival of Pahiyas ~ Pahiyas Festival 2017 of Lucban
May 15 marks the celebration of one of the most colorful festivals in the Philippines ~ The Pahiyas Festival of Lucban Quezon. Finally, after all that failed attempts to attend this festival, I was able to make it this year  and I am so grateful that I went here with my mom as my Mother's day treat for her. It was my first Pahiyas Festival and we really had so much fun. I first learned about Pahiyas when I was in grade school as it is often listed in most of our text books as one of the most popular festivals in our country and I am so happy that I finally had the chance to witness this colorful celebration in person.
This adventure to Lucban was actually part of packaged tour we availed months ago. The tour was hosted by Happy Feet Travel and Tours which covers a tour to the town proper of Lucban for Pahiyas Festival, a visit to Kamay ni Hesus and Dalitiwan Resort in Majayjay Laguna. I am going to have a separate entry for the rest of the destinations we visited during the tour but for the mean time, allow me to share you our wonderful experience in Pahiyas Festival 2017.
If Baguio is known for their famous Panagbenga Festival, the people of Lucban is well-proud of their very own Pahiyas Festival but what is this really all about? Pahiyas Festival is celebrated in the town of Lucban annually. To be specific, the festival is celebrated every 15th of May in honor of the town's patron saint, San Isidro Labrador (Saint Isidore the Laborer), the patron saint of farmers. This explains why the festival is associated with a wide variety of harvested fruits and vegetables.

Behind the town's name Lucban comes a popular legend that tells a story of three hunters from Majayjay Laguna who lost their way while following the trail of wild animals at the foot of the Mount Banahaw. While finding their way out, they spotted a huge pomelo tree (lucban tree) along with a couple of kingfishers singing in great harmony. The hunters were attracted by this and thought that it was a good sign so they settled in this place for good and named the place Lucban.

Now that we have learned the origin of the town's name, what about the origin of Pahiyas? Why it called Pahiyas on the first place? The first major festival in Lucban can be traced back in 1963 when the founder Fernando Cadalina Nanawa organized a huge festival in celebration of their Patron Saint. It was initially called the Lucban Arts for Commerce and Industry Festival which aims to promote the town's tourism. The festival includes street parades and exhibits showcasing Lucban's popular products and of course, their rich harvests.  Nanawa is also the first one to use the term "Pahiyas" and it has become the term given to the festival since the early 70s. Pahiyas came from the local vernacular "Payas" which means to Decorate or decoration.

The festival has evolved over the years and decorating the facade of their houses with colorful fruits and vegetables has become an essential part of this yearly tradition. Much like the Panagbenga in Baguio, there is also a competition involved. However, in Lucban, instead of creating flamboyant and intricately designed floats, the locals of Lucban were encouraged to decorate the facade of their houses in full extent. At the end of the festival, the sponsors will pick the house with the best "pahiyas". It is very interesting to note that each house has their own gimmicks. The more gimmicks , the better.



We left Manila around 1 am in the morning and we were able to reach Lucban around 4. It's merely a 3 hour long travel from Manila to Lucban and since we arrived earlier than our scheduled time, we had enough time to explore the place. Of course, we started our day by attending the mass in Lucban Church (colloquially known as San Luis Obispo De Tolosa Parish Church). It was not really my first time here, I was able to visit this church a year ago after visiting the Kamay Ni Hesus (another popular pilgrim site in Lucban). [Check : San Luis Obispo De Tolosa Parish Church]. I will have an updated post about this historical church soon.


The 6 am mass was followed a colorful parade. The colorful carroza of both San Isidro Labrador and Santa Maria Torribia (wife of San Isidro) were being pulled by the locals as they pass through various streets in Lucban.


The parade is accompanied by a marching band.


Outside the church, you will be greeted with this colorful bazaar. Tiangge Sa Lucban is an agro-fair that is yearly established in the plaza that will showcase a wide variety of Agri-products of Lucban including ornamental plants and freshly harvested crops. It also showcase products such as handicrafts and a wide range of Lucban's famous delicacies (I am going to have a separate entry for this).

You can spot a lot of interesting colorful decoration in almost every corner of the street.

We also encountered these paper-mache giants that reminds me of the Higantes Festival (another popular festival in the country celebrated every November in Angono Rizal)

Of course, our trip to Pahiyas Festival will not be completed without checking those colorful and intricately decorated houses. The first house we spotted is this one. It is adorned with wheat grass, kiping, a wall adorned by radishes and decorated with other colorful vegetables such as straw beans and green chili.

Pahiyas Festival will not be completed without this famous delicacy in Lucban, the Kiping! Kiping are brightly-colored, leaf-shaped wafer made of rice paste. It came from the word "Kipi" which means "to dried out". These rice-based delicacy is an integral part of the Pahiyas Festival. It is used both as a decoration and of course as a sweet treat!

Green Chili Peppers!

An image of San Isidro Labrador surrounded with colorful decorations of fruits and veggies


Laban mo, Laban Niya, Laban nating lahat ~ LABANOS! A wall of radishes!


My mom and her bff haha

Each house has their own gimmick but everything are equally colorful and picture-worthy!


It actually feels like passing by a fantasy land

Kiping Lanterns!

San Isidro Labrador

Wheat and Kiping


Another notable decoration that is commonly found in most houses is the so-called Anok. These are Scarecrow-like human replica that are usually made out of rice straw, coco coir or sawdust. That's me, having a deep conversation with an Anok haha

A house covered with wheat grass! Check out those beautiful Wheat chandeliers adorned with red hot chili peppers!


Talking about Effort? Well, this four-story building simply nailed it!


A Trip to Lucban will not be completed without trying their famous "Pancit Habhab". You should try to eat Habhab the local way and that means you should not use any fork or spoon and you just have to push the noodles to your mouth.


I love Pahiyas Indeed!

Say Hello to this buddy!

This is personally one of my favorite Pahiyas!

Another image of San Isidro Labrador

There's another Anok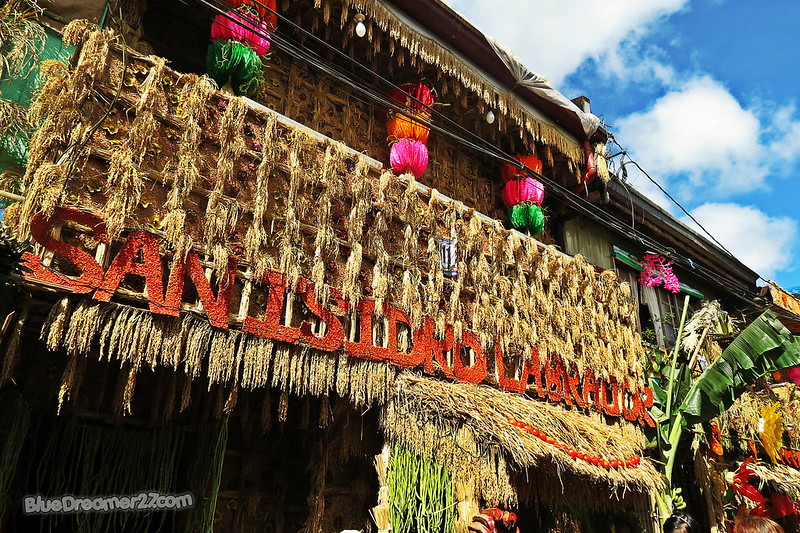 A house adorned with rice husks

There's just too many wonderful and colorful Pahiyas decoration and I bet the judges will have a hard time picking the winner!

But I guess It's not really about the price or the competition! It's the fun and preserving this colorful tradition in Lucban! Did you know that the festival will conclude with the so-called "Kalas". It's where locals will start to bring down the decoration. This act as a symbol of rejoicing and merriment that follows a big, abundant harvest.

Things You Should Know About Pahiyas Festival
►It's an annual Festival celebrated every 15th of May in honor of San Isidro Labrador, the patron saint of farmers
►The Festival will start off with a special mass followed by a colorful procession
►Pahiyas came from the word "Payas" which means to decorate
►Some Lucban delicacies you should not miss ; Pinagong, Kiping, Puto Seko, Espasol, Hab Hab and Lucban Longanisa
►You should not miss their handicrafts too especially their Bayong
How to get to Lucban
►Whether it's Pahiyas or not, Lucban is absolutely a town worth visiting. There are bus terminals in Araneta Center Cubao, EDSA Kamuning, Buendia and in Pasay with buses bound to Lucena or Sta Cruz. Either from Lucena City or Santa Cruz, you can just ride a jeepney that can take you to the town proper of Lucban. If you wish to visit Kamay Ni Hesus, there are tricycles that can take you directly to that pilgrim site too!
Where to Stay in Quezon?
►If you wish to stay in Quezon for a day or two, here are the list of affordable hotels in Quezon as suggested by TravelBookPH. Booking for hotel during such peak occasion is quite a challenge so I highly suggest to book your hotels ahead of time!
I'm going to share more about our side trips in my future entries including my third visit in Kamay Ni Hesus and the relaxing tour in Dalitiwan Resort in Majayjay Laguna.
For the mean time, feel free  to follow me in my social media accounts for more updates
Facebook : It's Me Bluedreamer!
Instagram :  @bluedreamer1227
Twitter : @bluedreamer_27
Feel free to watch this video summary below and don't forget to subscribe!