The Loren Island in Nasugbu, Batangas
Whether you are a beach bum or someone looking for extreme adventure, the province of Batangas has always been a perfect spot. It provides you with the best of both worlds because the province is home to some beautiful beaches and some popular hiking spots. Just recently, my friends and I went to Calatagan, Batangas, and tried their popular floating cottage and witness their beautiful and clear blue beaches. Not too long ago, I also managed to visit the so-called Papaya Island Cove (Check: Papaya Island Cove) in Nasugbu.
There is also a great number of beginner-friendly mountains to hike in Batangas including Mount Talamitam (Check: Mount Talamitam) and Mount Batulao in Nasugbu, Mount Gulugod Baboy in Mabini, and Mount Manabu in Santo Tomas to name a few. Not to mention some notable places like the abandoned theme park in Lemery (Check: Fantasy World) and a great number of beautiful and historic churches in the province.

Last year, when the travel restrictions were quite lifted, my family and I were able to visit another beautiful island in Batangas. We went to the so-called Loren Island in Nasugbu which is surprisingly not too far from the Papaya Island Cove. Loren Island is a small and unspoiled island in Nasugbu. It is formerly known to locals as Pulo Island or Pulo-Pulo but many refer it to as the Loren Island because the island is said to be a private property owned by Senator Loren Legarda, hence the name.
Despite being small, Loren Island is filled with many beautiful and absolutely picture-worthy spots. It offers a cove area that is ideal for swimming, a white-sand shore, a hidden sandbar, and some islets nearby. The only access to Loren Island is via boat but since the island is not really ideal for an overnight camp, visitors are encouraged to spend the night in one of the resorts in Calayo Beach (located in Barangay Calayo). We were able to book a cottage for Php3500 while the boat ride from Calayo Beach to Loren Island is worth Php200 per head (the boat is good for 12-15 pax). There is also a minimal entrance fee to the island of Php25 per head. You can also pitch a tent near the shore area.
Calayo Beach
The Loren Island as viewed from Calayo Beach
We arrived at Calayo Beach resort on Friday night and we set up our tent right away while some of us stayed in the cottage. We went to Loren Island as soon as we had our breakfast. It was a 20-30 minute boat ride from the main island. Life vests were already provided too.
Boat ride to Loren island
The Loren Island from afar
Surprisingly, we were greeted by a large crowd when we get there. The boatman dropped us off at a small cove. You just have to walk through some rocky area of the shore to access the white beachside. The beachside is a mixture of rocks and coarse sand.
Arriving at the island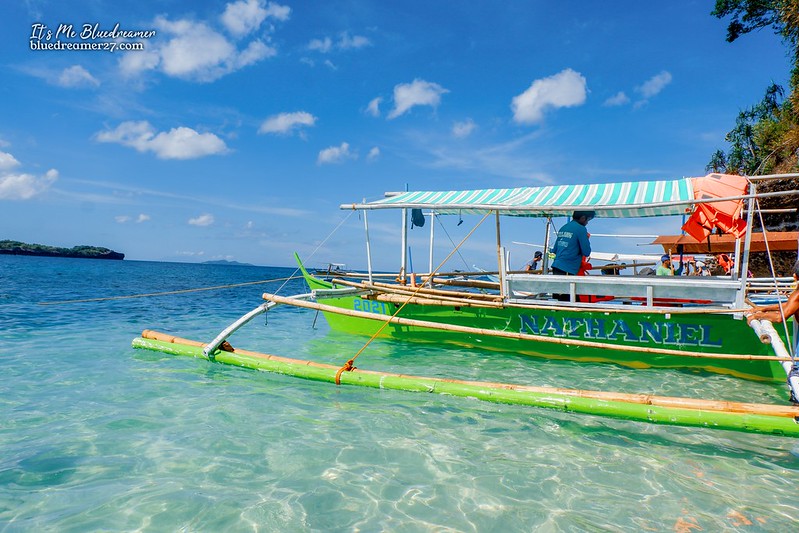 The clear blue water
Boatman unloading some passengers
The area is also filled with trees, so finding a nice shade wouldn't be a problem at all.

The beachside
Rocky part of the beach

There is also some interesting rock formation on the island and the mermaid statue on top is one of the island's notable features.

The rock formation with mermaid statue
The mermaid statue upclose
Not too far from the beachside is a hidden sandbar. Interestingly, the sandbar connects Loren island to a nearby rocky and tree-filled islet. It also separates two beaches of the island.

The Hidden Sandbar of Loren Island
Unlike Papaya Island, Loren island is completely unspoiled and is not commercialized. There are no buildings on the island except for small and unmaintained comfort rooms.

The other side of the island
If you have enough energy, you can walk around the cove to explore its beauty. You can also ask your boatman to bring you to nearby coves and islands including the Bituin and Kayraang coves.
Here are more pictures from the island

Another picture-worthy spot
Just me projecting haha
Things You Should Know Before you Visit Loren Island in Nasugbu
There is an Entrance Fee to the Island worth Php25/head
The boat rent to Loren Island from Calayo Beach ranges from Php1500 to Php1800(good for 12-15 pax) depending on your contact
There is a great number of beach resorts in Calayo Beach with cottage rates ranging from Php3500 to Php6000
Camping is allowed and Free in Calayo Beach
As per writing, Overnight camping is not allowed in Loren Island
There is no decent comfort rooms in Loren Island so make sure to do your business in Calayo before the Island hopping tour.
There is a Parking fee of Php100 in Calayo
The prices mentioned above are subject to change without prior notice
Feel Free to watch my Vlog about Loren Island below