I thought I'm going to do nothing but to enjoy my vacation after leaving my company but it seems that there are some sort of things that will make me be a bit busy. My cousin approached me last Sunday to teach her youngest daughter and that's an offer that I just can't refuse. I love being a tutor and I don't mind teaching kids as long as my time will allow me. Oh well, I remember teaching her son and her eldest daughter way back 2008 I think and that's the time when I was still working as a full time private tutor.I'm a frustrated teacher as you all know but even though I failed to have that profession and degree, I still have that dedication and passion in teaching.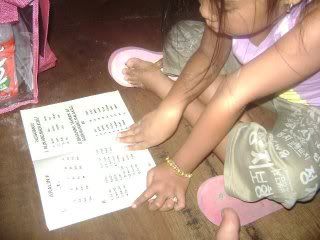 Anyway, Jessica is my new student and she's now in Grade one. Actually, I got another offer from a friend to teach her twins but I don't think I can accept any more offers right now because I just can't promise a long term commitment with them since I'm just taking a short career break at the moment.
Anyway, I think kids today should be grateful enough that they can have a chance to learn all these tutorial stuffs in a modern and in innovative way. Online private tutoring is quite in demand today. A lot of people embracing such modern way of teaching today due to the convenience and affordability that they offer. Actually, i was thinking of applying here someday but I don't think I have good enough credentials to be qualified yet.